BroadBit exhibits its new sodium batteries with Kapsch TrafficCom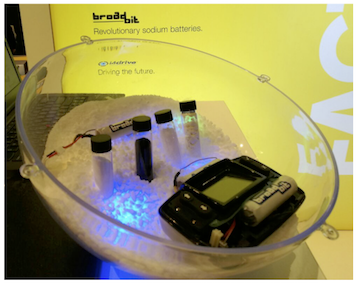 Today BroadBit Batteries exhibited their 18650 format Hi-Energy sodium chloride batteries in a Kapsch TrafficCom GNSS on board unit (OBU) at the ITS World Congress in Montreal, Canada. The demo was produced as part of Kapsch and BroadBit cooperation in the Kapsch Factory1 accelerator program, which began in May 2017.
** About Kapsch TrafficCom:**
Kapsch TrafficCom is a supplier of Intelligent Transport Systems applied to toll collection, traffic management, intelligent urban mobility, safety as well as traffic protection and connected vehicles. As a unique solutions supplier, Kapsch TrafficCom offers complete solutions covering the entire supply chain of its customers, from components and design, to system implementation and commissioning. In addition to reducing contamination, the Kapsch TrafficCom mobility solutions turn traffic safer, more reliable and comfortable in any urban street or highway.
Kapsch TrafficCom is a recognised international supplier of intelligent transport systems thanks to the many successfully completed projects in over 50 countries worldwide. The family company, with headquarters in Vienna, Austria, celebrated this year 2017, 125 years of success developing and implementing new technologies to help its customers. As part of the Kapsch Group, Kapsch TrafficCom has affiliates and branches in over 30 countries. Since 2007, the company is listed in the Vienna Stock Exchange (KTCG). Today, Kapsch TrafficCom employs over 4,800 employees. The turnover of the company in fiscal year 2016/17 was approximately 648.5 million Euros.
About BroadBit:
BroadBit is a technology company developing revolutionary new batteries using novel sodium-based chemistries to power the future green economy. We have already made high performance lab samples and are now commercializing the technology for next generation electric vehicles, portable electronics, starters and grid energy storage. Our batteries enable Increased range/use time, Longer lifetime, Reduced cost, Improved environmental friendliness, Improved robustness, and Scalability to any production volume.
The batteries are based on metallic sodium and other widely available and plentiful compounds. Our main active material is sodium chloride (NaCl), also known as table salt. BroadBit is also developing a high power capable battery electrolyte.