BroadBit Wins the 1st ever MILstartup Award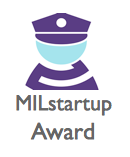 BroadBit Batteries is proud to announce that it has won the first ever MILstartup award. The award recognizes novel technologies and companies meeting the special needs of military applications. BroadBit prevailed over over XXX competitors to receive the recognition.
Of the award, David Brown, CEO of BroadBit stated "As is widely recognized, military applications are among the most demanding. We thank the evaluation committee for recognizing the unique compatibility of our novel sodium battery technology to these needs".
About BroadBit:
BroadBit is a technology company developing revolutionary new batteries using novel sodium-based chemistries to power the future green economy. We have already made high performance lab samples and are now commercializing the technology for next generation electric vehicles, portable electronics, starters and grid energy storage. Our batteries enable Increased range/use time, Longer lifetime, Reduced cost, Improved environmental friendliness, Improved robustness, and Scalability to any production volume.
The batteries are based on metallic sodium and other widely available and plentiful compounds. Our main active material is sodium chloride (NaCl), also known as table salt. BroadBit is also developing a high power capable battery electrolyte.
About MILstartup:
Founded in 2016, MILstartup brings together startups, governmental organisations and established industry players to present and discuss new innovations for military, aerospace and security fields.